Our program is based on Royal Life Saving Australia's Swim and Survive program. The program is developed from the National Swimming and Water Safety Framework which provides extensive training for both swimming technique and water safety. From this framework, we have developed a comprehensive program of lesson plans for each level, age and ability.
Our program is based on Royal Life Saving Australia's Swim and Survive program and developed from the National Swimming and Water Safety Framework. The Learn to swim program is for children ages 4 years and older.
Level 01 Independent movement
Level 02 Basic freestyle arms over, back kicking and sculling
Level 03 Freestyle with bilateral breathing introduction of backstroke
Level 03+ Introduction of survival backstroke kick
Level 04 Introduces breaststroke kick, survival backstroke kick and arms
Level 05 Introduction of basic breaststroke with arms and legs
Level 06 Correct breaststroke timing and introduction of dolphin kick
Level 07 Introduction of basic butterfly arm
Level 08 Introduction of sidestroke, butterfly drills and tumble turns.
If your have completed the Learn to Swim program and want to progress you're swimming and survival skills, our advance classes offer one hour of training by an experienced Geelong swimming club coach and or teacher.
Geelong Swimming Club, Learn to Swim provides an opportunity for  swimmers enrolled into the learn to swim program that want to progress and join the Geelong Swimming Club (GSC).  Transition squad is for levels 05 and onwards, it provides on deck coaching with experienced and accredited GSC coaches and provides a pathway to competitive swimming. Swimmers must commit to their one regular Learn to Swim lesson and one transition squad session a week. See our downloadable Transition Squad Flyer.
The Geelong Swimming Club has a strong multi-class (MC) program, and the team has achieved great success at both the National and International level, with swimmers participating in the Paralympic Games, Deaf Olympic Games, World Down Syndrome Championship and more. If you have a swimmer in our Learn to Swim program that will meet our multi-class transition squad program and wants to be a competitive swimmer, we can help you and will support your journey all the way. This multi-class transition squad requires the swimmer to still swim in our Learn to Swim Program once a week, but also offers a smaller squad size suitable to their needs.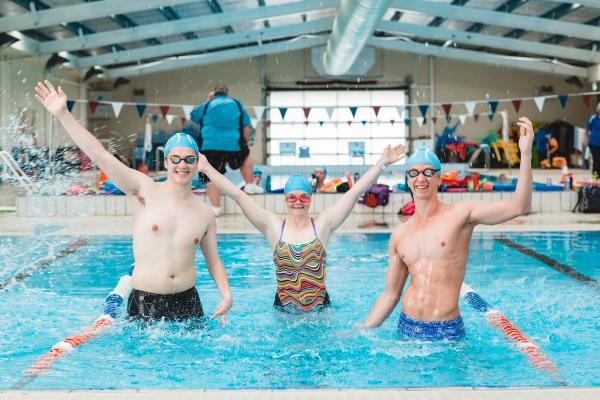 We run adult swim sessions at our Learn to Swim Centre at our Geelong location on Monday and Wednesday nights and a Sunday afternoon. We will have a qualified senior Learn to Swim instructor to assist with stroke correction if required. These sessions are not swimming lessons. You must be a full club member to attend (for insurance purposes) – not just a dry member. You are not required to register your interest, just simply turn up. Download our Adult squad flyer for more details.
Get Started
No matter where your child is on their swimming journey our program has a place for them. Our coaches are excited welcome you to the region's finest learn to swim school.